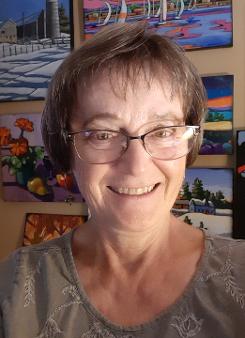 Kathie Wright - Acrylic
Email: kathiewright.artist@gmail.com
Phone: 519-364-7875
Address: 073030 10th Sideroad SDR RR1 Hanover, Ontario, N4N 3B8
Website: kathiewright.blogspot.com
Facebook: Facebook.com/kathiewright.artist/
Instagram: instagram.com/kathiewright.artist/
Kathie Wright is a watercolour and acrylic artist whose palette depicts a wide variety of subject matter,
including landscapes, buildings, flowers, and still life motifs. Her work is a study of light and depth,
using contrast and simple shapes, in an attempt to open the viewer's eyes to the beauty of the world
around us. At the beginning of her career Kathie completed Sheridan College's Graphic Design program
and an Education degree, and continued to enjoy her love of all things creative while teaching in public
school classrooms. Retirement allowed her to pursue her art career, taking courses and participating
in many art organizations and group shows in the Collingwood, Wasaga Beach, and Stayner areas. She
is a member and a director of the Saugeen Artists Guild at present. Kathie has offered classes in
watercolour and acrylic in Southampton, Chesley and Hanover for several years, until they were
cancelled during the pandemic. Her house portrait commissions hang in many homes in the area.
Kathie's work can be seen in the Southampton Gallery, and at various group shows in the Hanover area.
You can view her work at kathiewright.blogspot.com.
"Light is the key to beautiful shapes! I see the world in shapes as I try to simplify what is in front of my
eyes and paint interesting, varied shapes and patterns of light and dark. It seems magical, as I watch
the depth, gradation and contrast of the warm and cool colours appear on the canvas.
I invite you to look at my paintings and see how everything works together to make a lovely visual
story. Our Creator God does a perfect job of crafting beautiful artwork in a moment. I am attempting
to embody that creation so that you will see it through my eyes and share the moment."