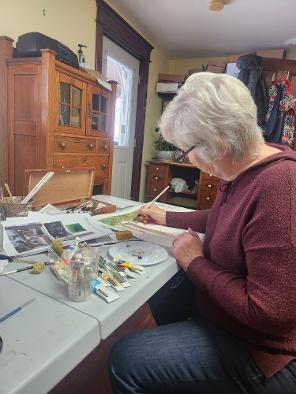 Sandra Fyfe - Glass and Jewelry Artist
I have always loved creating things. Early on I painted in oils and acrylics and then attended college for a degree in graphic arts. More recently, I have been creating jewellery in copper and silver with beautiful semi-precious cabochons created by Jeremy.
I am also a glass artist, creating pictures in glass in multiple forms.
My inspiration comes from the natural world around me and the materials themselves dictate the form that is created. We live in a world of colour and light and glass captures the iridescent quality of sunlight and shadows. Each time I create a piece and have it firing, I wait with anticipation forthe surprise awaiting with the opening of the kiln. Glass fusion is both science and art and the unexpected reactions create the most beautiful surprises.