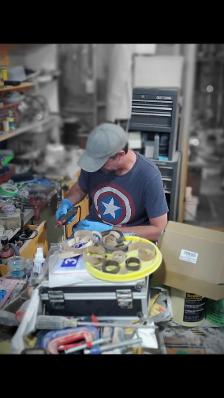 Jeremy Fyfe - Jewelry and Lapidary
Facebook: Jer's Rings and Things
Jeremy works mostly in jewelry, creating beautiful inlaid rings and custom cut stones for gorgeous pendants.
Working with semi-precious gemstone materials he customs cut all the stones he uses for each unique piece. Jeremy enjoys working in non standard jewelry metals copper, bronze, etc and takes great pride in seeking
inspiration from ancient cultures (Norse, medieval, Roman, Egyptian etc.).