Artist Schedule of Events
Wednesday July 20th - Saturday-July 23
Artists Check-In (10 am to 4pm)
Lasting Memories Locker Room
318 10th Street, Hanover, ON
You will be greeted by volunteers and receive a welcome package with brochures, letters, and surprise gifts!
Friday July 22
Volunteers and Artists Dinner and Social (6pm - 8pm)
Saugeen Municipal Airport Restaurant 2.5 km northwest of the Town of Hanover
34 Saugeen Airport Road, Walkerton, ON https://visitwalkerton.com/profile/saugeen-municipal-airport/4232/
Saturday July 23rd
Eat Well Farmers Market (9am to 1 pm)
Hanover Heritage Square
358 10th Street, Hanover
Hanover Raceway Live Harness Racing (1:30pm - 4:30pm)
265 5th St, Hanover, ON N4N 3X3
Completed Artwork Drop Off (4:30pm -6:30pm)
Community Center, Hanover Civic Centre,
341 10th St, Hanover
Sunday July 24th
Artists Breakfast (9am-11am)
Cravings Family Restaurant
08 7th Ave, Hanover, Ontario
Music in the Square (2pm - 4pm)
Heritage Square, Hanover 2pm to 4pm 1 pm through 5pm
Art Show and Sale (1pm - 5pm)
Presentation of Awards ( 2:15pm)
Hanover Community Hall
Civic Centre
341 10th Street Hanover. Presentation of awards at 2:15pm.
The public is invited to meet the artists, purchase art and enter a ballot for the People's Choice award. Each ballot is eligible to win a $50 gift certificate from Springhill Fish.
Durham Restaurants
Country Corner
Godfathers Pizza
Pebbles
Riverside Fish and Chips
Tim Horton's
Young's Garden Restaurant
Walkerton Restaurants
519 Table and Pour
972 Old Durham Rd, Walkerton

(519) 507-7687
Brant Drive In
Godfathers Pizza
Loung Sing Restaurant
Old Joe's Cabin
Papa V's Pizza & Wings
Pizza Delight
Simply Deli-cious
Subway
Highway 4, 1000 Yonge St S, Walkerton

(519) 881-2537
Sunnyside Grill
The Old Garage Wood Fired Pizza
Ti Amo La Cucina Italiana
Tim Hortons
Walker's Landing Pub and Eatery
Walkerton Sushi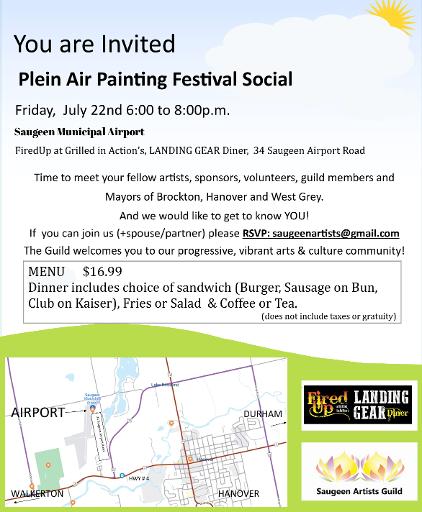 Hanover Restaurants
A&W
Ashanti Café
Canton Buffet Restaurant
China8
Chow's Garden
Chuck's Roadhouse Bar & Grill
Cravings
Domino's Pizza
Grant's Independent Grocer
Hanover Pizza House
Harvey's
Kentucky Fried Chicken
Match Eatery and Public House
McDonalds
Norm's
Pita Pit
Pizza Hut
732 10th St Unit 1, Hanover,

(519) 364-0888
Secords Country Kitchen (take out)
936 S 10th St, Hanover,
Stacked
880 10th St Unit 6, Hanover,

(519) 364-2225
Subway
Ten-Der Pizza
The Queen's Bush
Tim Horton's

Tommy D's Restaurant & Steakhouse

Wow Wings