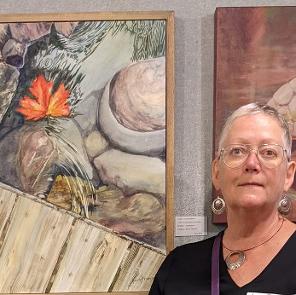 Laurel Pedersen - Watercolour painting and functional creations in clay
Lolly B. Studio
Email: lollyb.schlotzi@gmail.com
@lollybstudio (Facebook and Instagram)
Laurel Pedersen is a visual and ceramic artist living in West Grey, Ontario.
After a successful, 35-year career in the financial industry she is pursuing her artistic bliss full time at Lolly B Studio.
A watercolour artist for the past thirty years, the exploration of colour is at the heart of all her work. Nature and unusual perspectives are her primary inspirations. Her work hangs in private homes in Canada and Europe.
Laurel's artistic journey has been guided and encouraged by the many courses offered by galleries, universities and professional artists in Ontario. Most recently she began exploring figurative abstraction paintings in acrylics and 3 dimensional whimsical creations in clay.